Poor restorations distorted the overall impression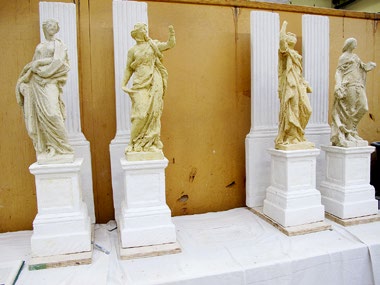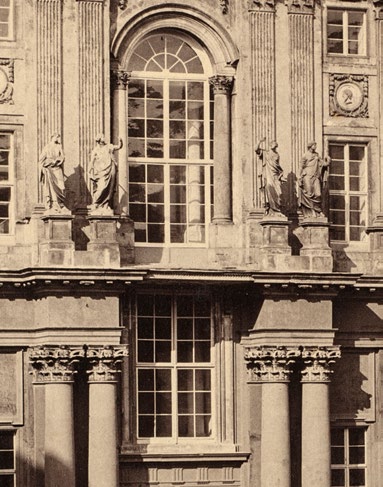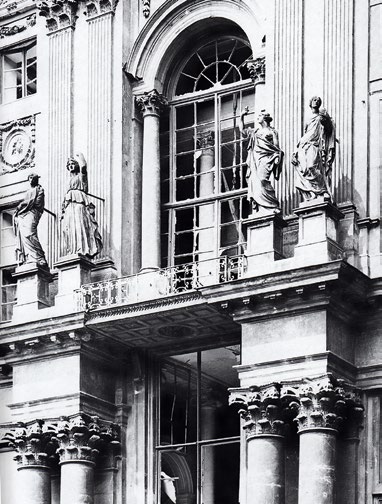 All four figures have been lost. Using the maquettes (small models) of these, the sculptors get close to the condition of 1859.
Portal V in the Schlüter Courtyard around 1859 with the historic Victoria (2nd from left)
Portal V in the Schlüter Courtyard around 1910 with the Victoria now in the Wilhelmine style (2nd from left)
In the archives and also on the photographic market in second-hand bookshops we are constantly finding rare photographs from the early days of photography that we have not seen before. They enable us to optimise our planning documents and to get ever closer to the original condition of the façades and their sculptures.
What you see here are two sculptures in the Schlüter Courtyard from the 18th century, which by the early 20th century were so badly weathered away that they were completely remade in the neo-Baroque style. The replacements were much less graceful, more static, less elegant and less full of verve than the originals that had been lost. Standing between the sculptures that remained preserved, they looked like imposters.
These early photographs from the year 1859 are some that we found only a short time ago. Naturally, we shall now recreate the sculptures of Portal V in the Schlüter Courtyard, which were completely destroyed, in their original condition in order to assemble a coherent, wholly harmonious reproduction of the courtyard.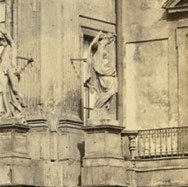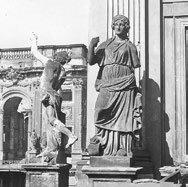 The same was the case with the 'pax' (the allegory to peace), on the right above the main portal. On the left the original in around 1859, full of movement. On the right the new sculpture in buxom Wilhelmine style from the 20th century.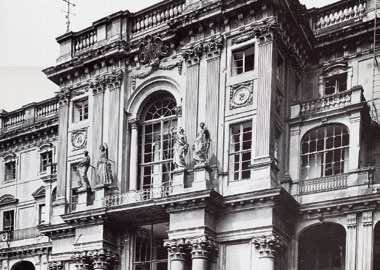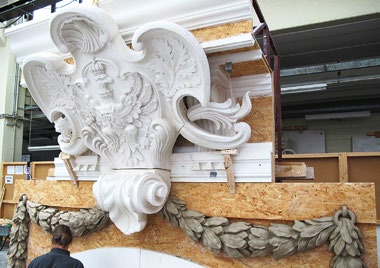 Portal V in the Schlüter Courtyard. At the top the eagle cartouche and on the right and left above the four sculptures the tondi featuring the likenesses of Roman kings.
The plaster positive of the eagle cartouche after making a mould of the clay model. In doing so, the original work of art was destroyed, as the clay cracks, crumbles and loses volume during the drying process.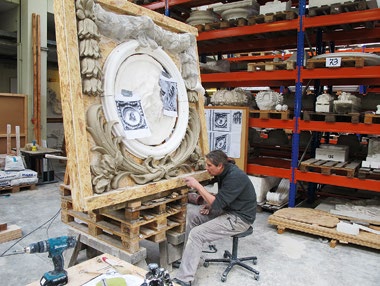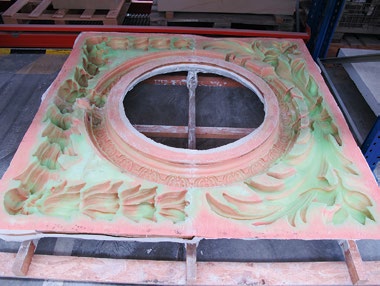 Originals of two kings have been recovered. The frame was lost in the demolition. Here the reproduction in sculptor's clay. On the right the negative mould made of plaster and silicon.